Often called "Bliss Yoga," Svaroopa® Yoga is slower paced, utilizing careful alignments and, is customized to your body's needs, making our classes both accessible and profound. We specialize in unraveling the layers of muscles wrapped around your spine.
Wednesdays
10:00 am – 11:30 am
Thursdays
10:00 am – 11:30 am
Private Yoga Sessions
Private sessions are for you if:
You need help but can't get to the group yoga classes

You've had an injury or recent / upcoming surgery.
Learn More about our private yoga session offering.
Drop In Rates
The cost is $25/class for drop ins. Please note cash and check only are accepted at class. The 4- and 8- class series can be CC paid online.
You may register ahead of time for a class by calling, or emailing any time:
301-946-1517 (studio)
302-236-9146 (same day register and direct questions)

Multi-class Passes
The series cost is designed to offer a discounted rate for classes. It is also provided to help students commit to a more regular practice, to establish an awareness of positive changes in your body, which translates to longer lasting and continual core muscle release. This is the key to living with less, or no pain.
Private sessions can also be paid online on this page: https://www.mireyoga.com/private-yoga-sessions
NOTE : MasterCard and VISA are only accepted online for these offerings. Thank you.
What to Expect
CLASSES ARE OPEN TO EVERYONE

Length of classes is 90 minutes

Please arrive 10 minutes prior to the start of class to set up your space. The front door of the studio will open at 9:50.

Wear comfortable clothing you can move freely in (no belts or jeans).

Cancellation policy
Classes are cancelled during inclement weather; stay connected with school and govt. closings.
Check here by 8 a.m. each class morning in the Fall or Winter for class cancellations and changes. I'll try my best to post as soon as I can, and I apologize in advance if anyone has to drive over on the morning of class. You can always call my cell # in the am at 302-236-9146.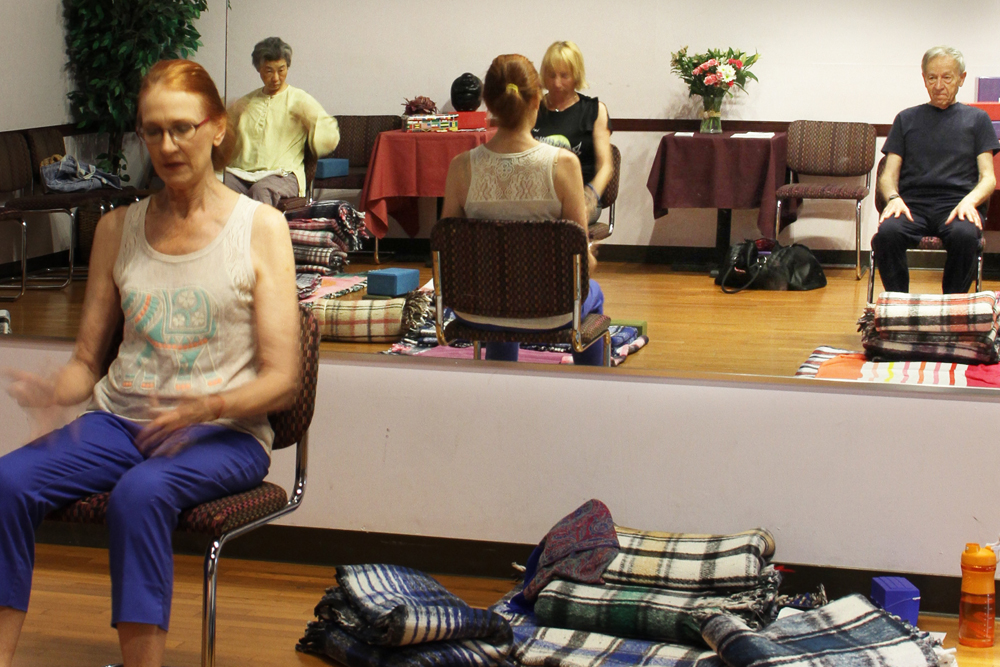 "I'm feeling more strength, more joy, more direction, more compassion, more understanding, and more like my real Self."
a happy student
Michèle teaching Slow Motion Dive, showing how the legs are parallel to each other for precise alignment in the seated pose. Photo used courtesy of MiRé Yoga.